Featured 6th Gen 2015 - Present Mustangs
Total Listings for 6th Gen 2015 - Present Mustangs For Sale (22)
6th Generation Mustangs. The sixth generation Ford Mustang is a pony car manufactured by the Ford Motor Company. The new Mustang was introduced as a 2015 model year vehicle, marking the 50th anniversary of the Ford Mustang, which was revealed as a 1965 model year vehicle on April 17, 1964. Three engines are available: a standard aluminum 3.7 L "Cyclone" V6, and optional 2.3 L EcoBoost turbocharged with direct injected I4, or a 5.0 L "Coyote" V8. The 2.3 L EcoBoost engine is new to the Mustang, having debuted in the 2015 model year Lincoln MKC crossover. This four-cylinder includes improvements over earlier versions. The 2.3 Ecoboost engine also marks the return of 4-cylinder Mustangs, which were standard in cars produced from 1974 to 1993, as well as in the "SVO" turbocharged models from 1984 to 1986.
Featured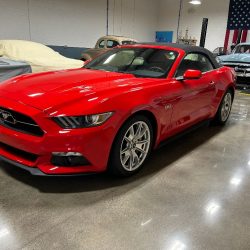 2015 Mustang GT Premium with 50th anniversery package. Ford Racing performance exhaust also included. Still have to original exhaust system which goes with th...
May 17, 2023
32 total views, 0 today
Negotiable
Not your average Mustang here! This Yellow Label S302 Mustang(production #033) has a beastly 302CI V8 engine that is an outstanding upgrade compared to most oth...
May 10, 2023
45 total views, 0 today
Negotiable
Gateway Classic Cars of Chicago is proud to present this clean 2016 Ford Mustang GT. The GT comes equipped with a 5.0L Coyote DOHC V8 engine paired to a 6-speed...
April 3, 2023
108 total views, 1 today
Negotiable
Gateway classic cars of Nashville is pleased to digitally present to you this incredible 2017 Ford Mustang Roush P-51. Reputed to be only 51 ever made this is o...
March 30, 2023
142 total views, 2 today
Negotiable
Sold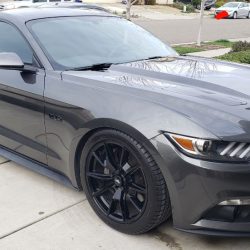 1 owner. Clean title. Smog certified, certificate available. Carfax available. Folder of all maintenance performed. New tires. Excellent condition. Modification...
March 19, 2023
106 total views, 1 today
Negotiable
Gateway Classic Cars of Philadelphia is proud to present this 2020 Ford Mustang GT500 for sale. The 2020 Shelby GT500 holds the record for the most powerful Mus...
February 13, 2023
113 total views, 0 today
Negotiable
Gateway Classic Cars is happy to present this 2017 Ford Mustang GT for sale. This is a professionally built Mustang G.T. premium with track pack and intercooled...
January 11, 2023
190 total views, 0 today
Negotiable
2017 Shelby GT350. Comes with the track pack that was added as a standard for all 2017 Shelby's. Recaro racing seats, sweet stickers, and a custom shifter knob ...
December 1, 2022
401 total views, 1 today