Total Listings for 3rd Gen 1979 - 1993 Mustangs For Sale (29)
3rd Generation Mustangs. The Third Generation of Mustang spanned from 1979-1993, and is commonly called The Fox Body Mustang. The third generation mustang had two different body styles. From 1979 to 1986 the car had a triangle shaped front clip and four headlights, known by enthusiasts as "4 Eyes." Then in the 1987 to 1993 model years, the front clip had a more round shaping known as the "aero" style.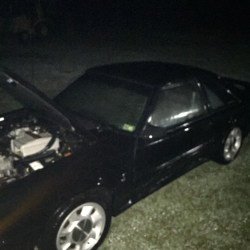 1993 Cobra svt Last year for the Fox body first year for the return of the cobra line. One owner car only has 3600 original miles on it. No accidents. Clean tit...
March 18, 2022
1058 total views, 0 today
Sold
This mustang is an absolute time capsule that was built 10/19/1983 that being said received factory ladder bars, all SVOs built before Jan of 1984 got factory ...
January 9, 2022
1017 total views, 0 today
Negotiable
Featured
1986 Mustang SVO Vehicle is in good condition
December 2, 2021
1576 total views, 0 today
Negotiable
original owner, no accidents or damage, very good original condition, all numbers matching
November 15, 2021
1573 total views, 1 today